Presentation Materials Development
Give Us Your Slides, We'll Give You Five Guides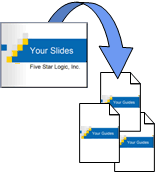 Do you have PowerPoint slides you need quickly converted into professional presentation guides?
Our expert Officient staff will quickly create and deliver FIVE professional publications to you in Microsoft Word format from your slides. That's five layouts, from the same slide content, for as little as $50.00.


Five Professional Publications for One Low Price
We make it simple! You send us your slides, and within two business days you'll receive five different presentation layouts of the same content. We'll even provide you an opportunity to proof the publications and request changes. See our How It Works page to learn more. Best of all, it's very affordable. See our Pricing Options page.
Let our expert technical staff do the work for you and deliver five different layouts. All for as little as $50.00.