Officient: Slides or Guides in One Click
Free 30-Day Trial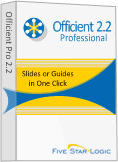 Try Officient 2.2 FREE for 30 days. Download now and begin using Officient today.
Download the trial version here to experience Officient for yourself. Officient trial versions deliver all the functionality of a registered version and are easily upgradable to a fully-licensed version.
Free Support with Your Officient Trial
Once you complete the download you will have the option to sign-up for FREE 30-day access to the Standard Support Program.
Officient is compatible with Windows XP, Vista and Office 2003, 2007.